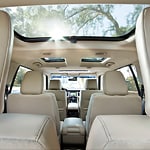 It is no secret that the Ford Flex is a practical SUV choice here in Puyallup. At Korum Automotive Group, we would like to point out the specific ways that it can help you keep up with life. Here are just a few of our favorites.
You will get at least one USB port, with the midlevel and top trim adding two more. Bluetooth, a way to wirelessly connect your smartphone to your Flex, is a standard feature across the board. If you choose this SUV, you will get either a 4.2-inch display or an 8-inch touchscreen.
Dual-zone automatic climate control is standard on the SEL and Limited, along with heated front seats. Choosing one of these two models will also give you navigation for even more convenience. The Flex can seat up to seven people and includes ample space for their belongings.