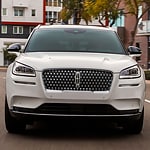 When it comes to luxury SUVs, the Lincoln Corsair offers a higher level of design not found in its competition. That's because Lincoln believes that design makes all the difference when it comes to the driving and the riding experience. Here are two examples at how the Corsair exceeds people's expectations with great attention to design.
The Lincoln Corsair is one of the few luxury SUVs that comes with a floating center console. This design feature allows the the driver and the front passenger to better store their devices. Also, the floating center console design provides for a better appearance.
To make storage easier than ever, the Lincoln Corsair also comes standard with a sliding second tow seat. Now you can access the rear of the Corsairs cabin in seconds. Overall, the Lincoln Corsair provides a higher level of design that transforms the driving experience.