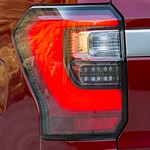 The Expedition has a powerful base engine with a V6 powered by a 3.5-liter twin-turbocharger. The standard version, as well as the XL, XLT, and Limited, put out 375 horsepower and 470 lb-ft of torque. However, there are two other trims you may want to test drive if you're close to Puyallup and want to stop by Korum Automotive Group for the best selection on performance with new Ford SUVs.
The premium version of the Expedition is the Platinum trim, which offers 400 horsepower and 480 lb-ft of torque. All versions offer up to 9300 towing capacity, although the XLT Max goes up 9000 lbs towing capacity. The engine is also paired to a 10-speed automatic transmission and rear-wheel drive, though the 4WD version is also available.
The Expedition is also much faster than many of the other large-size SUVs on the lineup. The Platinum version is probably the best experience if you want to test drive. You'll be able to feel the power of acceleration and handling with just a quick press of the pedla.