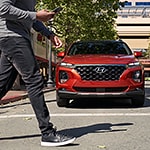 There are several reasons why you should consider buying a Hyundai Santa Fe. The car is one of the first Hyundai SUVs and has continued to expand over recent times. The vehicle comes to the market as a family SUV that is a five-seat capacity. It has headroom and big cargo space that makes it unique during travels. Below are some other features why we should buy this car;

Impressive Driver-Assistance Features
When a car comes to you with driver assistance features, it adds more confidence to the car's ability. The assurance that you and your passengers shall remain after a collision is much essential. The 2021 Hyundai Santa Fe shall make sure you are safe on the road even after an accident. It has features that help to prevent accidents.

Sturdy All-Wheel Drive
The car comes to you with an optional all-wheel drive across all levels and allows drivers to maintain better control of all types of road conditions.