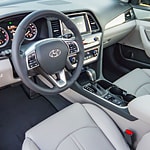 The 2021 Hyundai Sonata has a fantastic interior designed to make one look comfortable. It has an abundance of high-end materials that gives it an upscale form of comfort. The car's cabin is tranquil at highway speeds and has very spacious rows. The trunk space is very decent with an easy-to-use system.

Cargo
The vehicle has a 16 cubic trunk space, which is much above the average compared to the other small cars. The square shape design of the trunk makes it easier to organize cargo.

Seating
The Hyundai Sonata is a five-seater car with state-of-the-art cloth upholstery with adjustable front seats. Some of the other available features include synthetic leather upholstery, adjustable power seats, leather upholstery, ventilated seats, and heated front seats.

The car's front seats provide a lot of support and comfort for long drives. The second car low has a room for tall passengers.

There are two sets of latch connectors for the car's outboard seats when it comes to child safety.