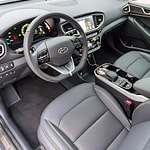 The small hybrid vehicles market has continued to expand gradually over the past few years. Manufacturers are now working to ensure that they manage to develop more eco-friendly vehicles in their lineups. Hyundai is one of these companies that has been able to develop the new 2020 Hyundai Ioniq. Some of the things that should make you consider buying a new 2020 Hyundai Ioniq are:
1. Remarkable Fuel Consumption
One of the reasons why people buy small cars is because of fuel consumption. Buying a fuel-efficient car is one of the most amazing things. The car comes with a 59 mpg on the highway and a 57 mpg in the city. Finding a car that can match this consumption is difficult.
2. Affordability
?The 2020 Hyundai Ioniq is undoubtedly affordable. The car's superb fuel economy is what makes it more affordable to maintain. Their fuel-saving ability helps drivers to save on operating costs.