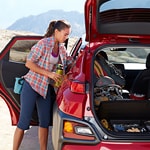 The Hyundai Kona is not built like your average SUV. In fact, this is a popular small SUV that has a unique shape and feel to it. This is evident with the color, the configuration of the lights, and many other areas. These are best experienced when you visit Korum Automotive Group to take a look.
The exterior comes in a range of unique colors that are not like any others you will see on the road. This really distinguishes the Kona from other SUVs that you might be looking at. The options on the table include Lime Twist and Chalk White. You will appreciate the subtle differences that this brings to the vehicle.
The LED headlights are high-efficiency and really stand out on the front of the vehicle. Drivers appreciate this because of the range of illumination that they will enjoy while navigating dark roads. Take the Kona on a test drive today when you visit Korum Automotive Group.