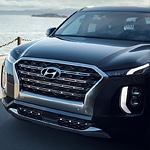 When it comes to modern-day SUVs, the 2020 Hyundai Palisade is a top-rated pick. This three-row SUV has an efficient engine, stellar good-looks and a plethora of advanced technologies. Let's see how you can benefit after purchasing this fine automobile.
The 2020 Hyundai Palisade offers safety and security like none other in its class. First and foremost, this particular sport-utility vehicle is constructed from high-strength steel. In addition to that, consumers will have the protection of ultrasonic sensors. These advanced components do an amazing job of scanning the roadways for any possible hazards. If any hazards are detected, then the driver will receive a notification or alert. Some of the safety features included are Blind Spot Monitoring, Pedestrian Detection and Lane Keeping Assist. In addition to that, the Palisade offers a 10.25-inch driver display and Heads-Up display.
Stop by our location to speak with one of our knowledgeable representatives for more information.