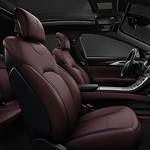 If you like the idea of owning a mid-size luxury sedan but aren't sure which one is right for you, a visit to Korum Automotive Group is in order. There you'll find the Lincoln MKZ, a popular high-end sedan model that comes complete with an array of standard and optional features, and you can take one out for a test drive today to see what sets it apart from the competition.
An optional six-cylinder engine can supply 400 horsepower and 400 foot-pounds of torque to conquer almost any road with ease. Intelligent cruise control, noise-canceling technology and other available amenities also make piloting the MKZ a pleasure.
If a hybrid vehicle is more your style, the MKZ can deliver on that as well. The combined fuel mileage rating for the hybrid model is estimated to be around 41 miles per gallon without sacrificing anything when it comes to style and performance.