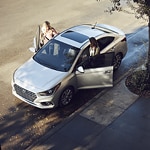 If you are looking for a small car that provides excellent fuel economy, come to Korum Automotive Group located in Puyallup, and see the Hyundai Accent. This vehicle has the comfort and convenience features that make driving enjoyable. It also provides outstanding performance for a superior driving experience.
All three trim levels of the Hyundai Accent come with the same standard engine. This is a 1.6 liter engine that provides 120 horsepower. This efficient engine allows the Accent to average 33 mpg while driving in the city. Out on the highway, this car goes a long way on a tank of gas averaging 41 mpg.
The Hyundai Accent provides you with a performance feature that really helps you out if you live in an area with many steep hills. Hill start assist will keep the Accent from rolling backwards or forwards. You have enough time to move your foot over from the brake to the gas pedal.